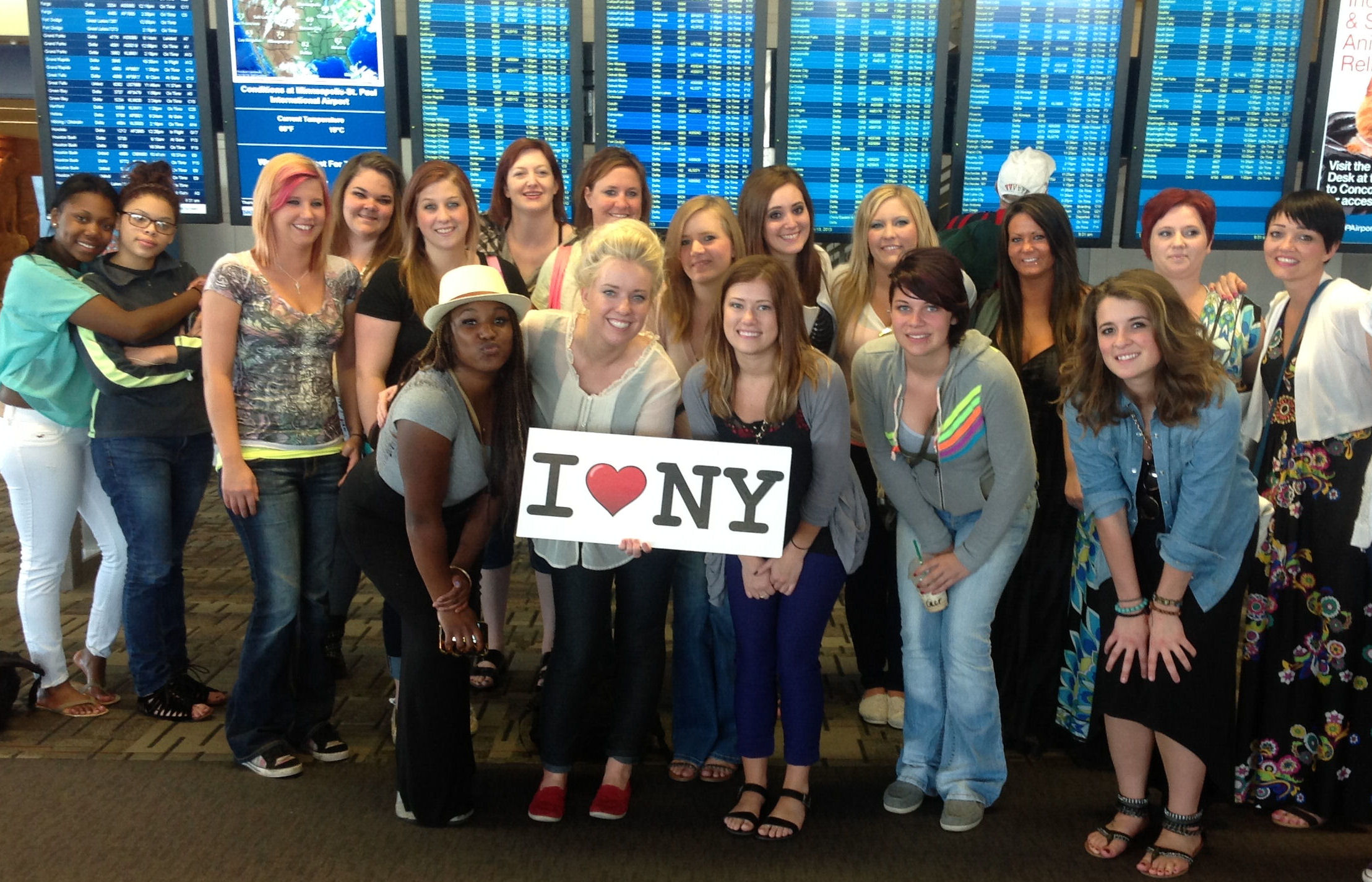 40 XENON STUDENTS IN NYC!
Posted on June 25, 2013 by Susan Peel
Our Students New York Experience
The instructors at the Matrix Academy were inspiring to every student.  We connected with other Xenon students and professionals in our industry and learned a new psychological approach to what cosmetologists accomplish with clients.  My favorite aspect of the city was the energy and inspiration from the people and architecture surrounding us.  It was a great social outlet and sparked new dreams and goals in me.
Cosmetology inNew York Cityis such an amazing industry.  Everyone there dreams big and thinks outside the box.  The teachers, artists and the whole academy were so inspiring and motivating.  It made me realize that I really can take my career as far as I choose to, it's up to me.  The people at theMatrixAcademymade me remember why I want to be a professional cosmetologist and infused love for the industry into my heart.
There were a lot of amazing experiences in New York.  I loved everything about the Matrix classes.  The instructors were all great and very friendly!  I learned a lot from Daniel and Ammon.  Being around them really inspired me to be the best hair stylist I can be.  Everything aboutNew Yorkreminded me why I chose to be a hair stylist and why I love what I do.
There were a lot of amazing experiences in New York.  I really enjoyed the classes we took.  Daniel and Ammon were amazing teachers.  They were very energetic and they always had something positive to say, it was very motivating.  The entire Matrix team was great!  The trip was definitely a success and well worth it. 
New York City was overall an experience of a lifetime.  It had a way of drawing me into its beauty that pictures can't captivate.  Getting lost there tends to make you find yourself; realize who you are and how far you want to go in reference to your career.  To pinpoint the highlight of my experience, it was listening to motivational psychologist Dr. Lewis Losoncy; author of over 25 books.  I was taken back by his awe of our career, our lifestyle, our characteristics and overall effect on people, our clients.  Not only do we alter their physical appearance, but their thoughts, their hearts, their decisions and their paradigm without having the degree he went to school many years for.  Although, in a sense, we as cosmetologists already have the knowledge of the affect we have, it's good to be reminded, and it was greatly appreciated coming from a man of his stature.  Although words can't sum up how Dr. Lew shifted my paradigm, my actions will reflect what can't be elaborated.  He really is "The Doctor of Encouragement!" 
What I enjoyed the most from this trip was just taking it all in.  I'm sure it was pretty obvious to theNew Yorknatives that I was a tourist.  Seeing all the styles of architecture really brings out the character of the "BigCity" scene.  It almost felt as if we were in a different country experiencing the fast pace lifestyle of the whole city.  I really enjoyed my trip and the opportunity to go.  I'm definitely planning on going back soon.
There's so much to say aboutNew York, I'm not even sure where to start.  First off the classes we took were so eccentric it made everything so much fun.  The Matrix team allowed you to put your personality into everything you did while still learning the techniques to cut and color the hair.  As forNew Yorkas a city, it was amazing!  As soon as we got there everyone knew we were tourist because we didn't have the focused stare down.  It's always busy no matter where you go.  At first the subway seemed a little sketchy but it's cheaper than a cab and the people on it are nice enough to help you out.  As for the night life, well it's crazy. New York is a great place to go and if I ever get the chance to go back I would in a heartbeat.