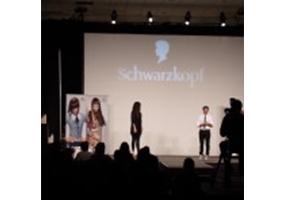 FALL HAIR SHOW…WOW!
Posted on October 10, 2012 by Susan Peel
Fall Hair Show… Wow!
You can tell fall is in the air. The leaves are changing colors, the temperatures are dropping, and the Salon Centric Fall Show has inspired us and refueled our love for the beauty industry!
Saturday morning came to life as we watched hundreds of knowledge thirsty professionals buzz around the Marriott. It was great to see so many students past and present there to fill their heads and shopping bags with the latest and greatest.
Xenon Denver is so lucky to know so many great people, our students were eager and willing to jump in and assist in any way possible. We had several students help Matrix in their "Hair Zone" area, model room, and behind the scenes.  All the excitement started early Friday morning and lasted till late Sunday. But our students were up for the challenge. It was really a moment of pride to watch them so enthusiastically helping any way possible.
We had several students willingly step up and let their looks be transformed by Brandon from Infrashine. Our students proudly displayed their new do's and school pride all weekend!
On Sunday we were lucky to sit in on a great motivational speech given by Geno Stampora. He reminded us of our passion for the industry, and renewed that hunger for success we all have.
After a weekend of learning, inspiration, and pride I was so ready to get back to Xenon to build off the excitement of the show and teach our great students everything they need to be successful!
Rebecca- Xenon Denver