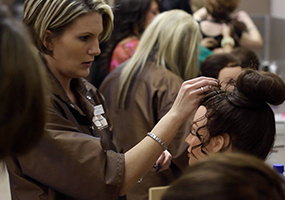 HOT ROLLERS REVIVED!
Posted on September 13, 2012 by Susan Peel
I have fond memories as a child watching my mom fumble with her hot rollers. The ritual was almost as painful as trying to manipulate those scorching hot rods, but the beautiful voluminous curls were well worth the burnt fingers.
After years of watching the blow-drying, sectioning, curling, then trying to figure out how to keep them in, my fascination  went to the way side. As a young cosmetologist I tried to turn my mom to a flat iron, a curling iron, round brush…anything to get her away from those darn hot rollers, but alas they have stood the test of time and are now being reborn!
Gone are the burnt finger days, we now welcome cold to hot rollers. Settle down! Before you rush out to purchase them, let me tell you a little bit about them!
Cloud 9 are the makers of this revolutionary product, developed in theUK, Cloud 9 products have recently made their debut in theUS. The O is a new twist on the old style hot rollers. Using induction technology, the roller reaches styling heat 4 seconds after removal from the O pod. The roller heats from the inside out, meaning that no fingers get burned, and the hair safely heats up and curls evenly. When the curler is ready for placement, a bright orange dot appears in the end of the roller, when the roller is cool and ready for removal, the dot disappears. Seems pretty easy to me! The rollers come in a variety of sizes, and instead of heating all the rollers at once, you heat one at a time.
I don't know about you, but I'm pretty stoked! Check out Cloud 9's website for full details and to see the technologically advance line of tools they offer.
Submitted by: Rebecca D- XenonAurora