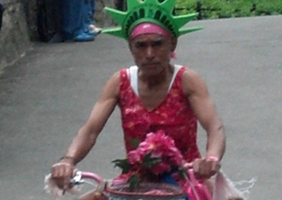 Inspirational Boost
Posted on June 13, 2012 by Localhero
Day 1
In the clouds on the way to the Big Apple. I got 2 hours of sleep last night. I'm so excited to go to classes and explore New York City. Up here in the clouds we're all doing fine. Our first takeoff was aborted due to a faulty mechanical alarm. We have a super hot flight attendant so everybody is happy. New York City get ready! Xenon is coming and you won't know what hit you!
Day 2
We started off with a bus ride to Clark, New Jersey. We took a tour of the labs where L'Oreal Professional products are created, tested and developed. It was SUPER cool to see the process products go through and meet some of the people responsible for some of our favorite products.
Our first stop back in the city was Ground Zero. The memorial is still under construction but the full impact of the experience was definitely felt standing at the location of such a tragedy that changed all of our lives. It was truly a humbling experience.
Next we took a walking tour of the SOHO area. There's so much creativity in that area, it's truly inspirational. From the graffiti on the street corners to the high end fashion art is truly a love in New York. My favorite stop on the walking trip was a chocolate shop where we tried hemp seed chocolate and got cold chocolate drinks. Mine had cayenne pepper, caramel, paprika, chocolate and other spices in it. It was to die for!
We headed to Dop Dop Salon for class after that. Dop Dop has an amazing atmosphere. There red brick walls and high ceilings are complimented by displays of local artists work. The wood floors and trendy music lead to the relaxing, homey atmosphere of it all. We learned some slightly more advanced coloring and styling techniques that I can't wait to try.
After class I went back to the hotel and went to explore with my roommate and some of our friends. We went to China Town in a cab and then grabbed a drink at a sidewalk café. It was very relaxing to sit on the corner and watch the world hustle and bustle around you.
Day 3
After breakfast we headed to Fifth Avenue. They taught about styles and salon etiquette. They discussed what hair shows are like and the importance of consultations. It was informative to hear even though it was not a salon I would see myself at. It's amazing to see the diversity in types of salons.
In our next class we started by watching a video about Joseph DiMaggio at fashion week. I personally obsess over fashion week because of the concentrated levels of artistry involved. It has always been something I have dreamed of doing.
After that we learned some Balayage techniques from Jay Vasper. She also showed us how to add dimension to a haircut with just one process of color. The results of the coloring demos were so cool. I went back to see them blow dry the Balayage and it was cool to see how they interacted with their clients. Also in class Joe showed us a technique/method for men's haircuts. He taught us a technique for creating a disconnected look that still had a distinguished look.
After the class was over we had an opportunity to hang out with the teachers from L'Oreal which was so great. I got tons of positive feedback. One instructor actually pulled me aside and told me that they thought I really have what it takes to go far in the industry and that they were excited they got to work with me. This trip was exactly the type of inspirational boost I needed.
Wil C.
Current Student
Omaha Campus