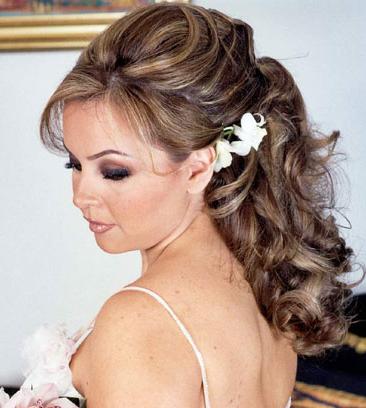 TRANSFORMATION TO PRINCESS!
Posted on April 2, 2013 by Susan Peel
Pleasing a young woman on the most important day of her life can really put the pressure on a stylist. Creating an artistic design can be intimidating to some but it is my favorite service to give in a salon. For me this is the perfect time to be creative and give her something she cannot create at home. Artistic Designs don't have to mean curling all the hair and pinning it perfectly in place. While working for Matrix at the Spring Hair Show inCouncil BluffsI taught elegant up-dos that take less time. In less than ten minutes you can take boring strands and transform them to be red carpet ready. When creating a formal style; think outside the box. Don't be afraid to push the envelope with twists, knots, or braids.  Don't be fooled into using too much product, too much curl, or being too styled. The best looks are midnight, not 6pm. Don't give your client an overused style, make her feel special for her special day. I love formal styling because it is the best feeling when my client looks in the mirror and is amazed at her own transformation from a small town girl into a princess.
Jalee Z.
Grand IslandXenon Campus