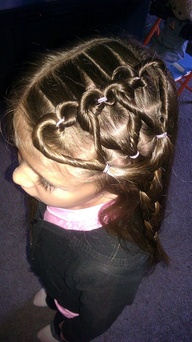 VALENTINE HAIR!
Posted on January 30, 2013 by Susan Peel
Valentine Hair!
Whether you have dinner plans with your sweetie, a school party, or just a quiet night planned watching movies, our Xenon students can style hair that will melt hearts!
Long hair design is taught in both the Junior and Senior levels. As a Director, I am so proud to see the amazing styles and the updo's our students create.
Guests to our salon floor have been bringing Pinterest and Bloom pictures in and our talented students have been able to recreate those looks.
My personal favorite, as shown in this adorable Pinterest picture is a perfect Valentine style for any age. Hair was sectioned, banded, twisted in hearts with a braid at the end.
The creativity is endless, and the fun hair designs for the season are just getting started! Oh, and have I mentioned the CHOCOLATE facials!?
This Valentine's Day let us put a smile on both you and your sweethearts face!!