Barber Courses
This program is now nationally accredited at both of our locations!
A career in barbering can allow you to express your creative side while showing off your technical skills. Xenon Academy's program was designed to prepare you to not only sit for the state board exam but to give you the confidence you need to find the perfect shop to showcase your talents after graduation. Our 1800-hour course at our Grand Island campusGrand Island campus can help you learn about the barbering industry and what you need to succeed. Contact us today to learn more about enrollinglearn more about enrolling!
This course is now being offered at both our Grand Island and Omaha locationOmaha location!
Course of Study
Xenon Academy's Barber course was designed to provide a balance of education and experience. You can flex your creative muscles in our classrooms and in our student shop. Not only do we teach the practical skills in barbering, but we want to teach you how to build your business as a barber. You will learn networking and marketing skills, as well as resume building and interviewing skills.
Our Grand Island campus is offering the full 1800-hour Barber program. This program is also available at our Omaha location to licensed Cosmetologists who wish to expand their technical skills and master the art of Barbering by becoming a licensed Barber in as little as only 800 hours!
For our licensed Cosmetologistsour licensed Cosmetologists, we offer a brief refresher of the core skills and classes they have not had since they were enrolled in school like anatomy, state law, and infection control practices. After this refresher, students will be able to jump right into barber and male specific hair techniques. Taper cuts, fades, shaving, marketing for a barber business are just some of the exciting subjects we'll cover to give our students a complete hair education!
Are you ready to jumpstart your future?
Whether you study barbering at our Omaha or Grand Island location, you start by learning the important fundamentals to the art of barbering. Then, you'll move to learning more about industry expectations and how to take your future by the shears by mastering not only your craft, but business and marketing skills the will empower your earning potential. Once you've mastered the basics, you will get practical experience in our student shop. Here you provide REAL services on REAL clients dialing into the precision that is
needed to become a successful barber. Additionally, Xenon Academy offers experiences such as interactions with industry leaders, guest artists, and shop tours.
Getting Started: Basic Training
Hair Sculpture
Shaving
Texture Services
Hair Design
Facial Massage
Color Placement
Guest Service Training
Kicking It Up a Notch: Advance Training
Shaving and Beard Design
Tapered Cuts and Fades
Chemical Services
The Art of Hair Design
Nail Care
Employment strategies
Marketing to Increase Income
Pivot Point Curriculum Tools
Barber Book Sets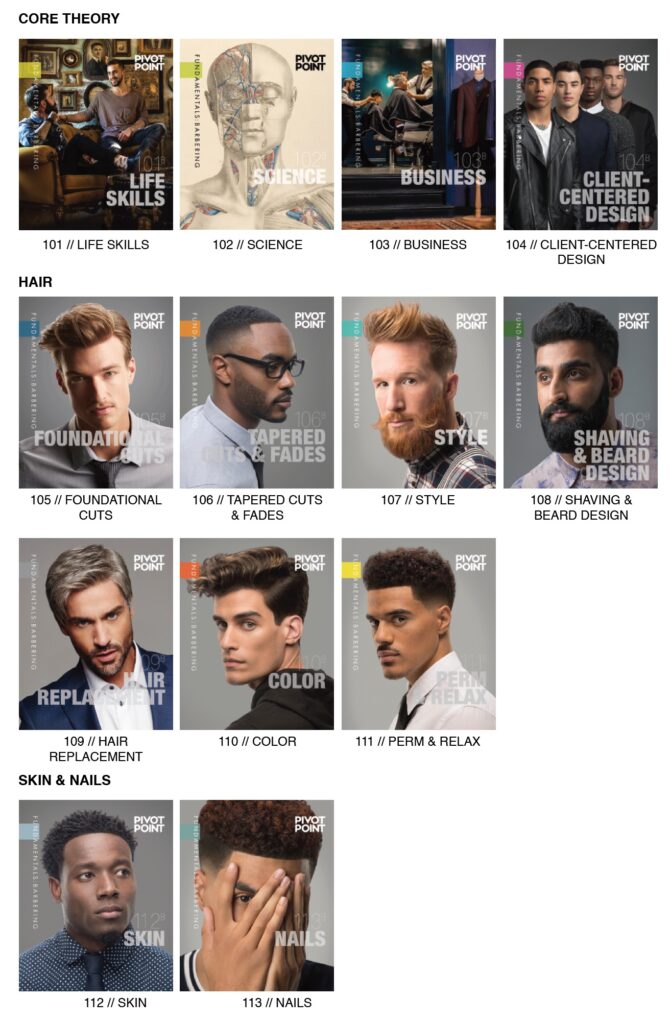 Xenon Academy utilizes the Pivot Point Fundamentals Learn About Barbering (LAB) curriculum. 24/7 online access to learning materials, technique videos, and quizzes support your educational experience. This learning curriculum provides a smooth, blended learning experienced focused on preparing students to sit for their licensure exams and jumpstart their careers.
The Learning System That Thinks Like a Student
Our learning system covers Core Theory, Hair, Skin & Nails. The curriculum is presented in a learner-centered way with an innovative design and in a collaborative environment. We teach using and Redken Brews. Students can master their skills in practical and theoretical instances with a focus on industry expectations.
Learn more about our Barber Program, contact us today!
Learn More About the Pivot Point® Difference
Helpful Website Links
The nation's primary source of occupational information
O*Net Resource Center: www.onetcenter.org
Information on Title IV Financial Aid
Dept. of Education: www.fafsa.ed.gov
College search website
College Navigator: www.nces.ed.gov/collegenavigator
Campus Crime Statistics