COSMETOLOGY COURSES
Xenon Academy's Cosmetology Program can empower you to help your clients express themselves while you build the beauty career of your dreams.
Course of Study
In our cosmetology course, you can learn the fundamentals of hairdressing in a program that is broken into four phases: Discovery, Experience, Create, & Imagine. At Xenon Academy, you can experience the professional salon industry first-hand through interactions with industry speakers, trade shows, and career fairs. Much of our extracurricular education is designed to provide you with exposure to some of the best professionals in the business.
CORE TRAINING
The cosmetology training at Xenon Academy begins with the fundamentals and works upward. Our students begin by learning in a classroom setting to prepare them to work in the student salon and spa as soon as possible. Here are a few of the things students can generally expect to learn during their time in our cosmetology course:
Hair Sculpture
Creative Color Placement
Texture Services
Hair Design
Skin Care Techniques
Makeup & Lashes
Menswork
Guest Service Training
Salon Marketing
Income Strategies
Each of these topics together, in addition with many more, are designed to help our graduates become well-rounded cosmetologists that are ready to go out and build successful careers!
The Business Side of Beauty
Our cosmetology course can provide the perfect balance of education and experience, giving you the opportunity to refine your skills. Not only can you gain experience with managing clients in our student salon, and you can also receive instruction on the business side of being a beauty professional. Regardless of where your cosmetology career takes you, most cosmetologists benefit from basic business skills. For some cosmetologists it makes managing happy clients easier, and for others it can give them the foundation they need to open a salon, spa, or school of their own!
Pivot Point® Curriculum Tools
Xenon Academy is proud to be a Pivot Point® Legacy Partner School, which means that most of our curriculum and course materials are supplied by Pivot Point® International. This curriculum is one of the most popular and prevalent education system used in beauty schools across the country, and we've chosen it for our students because we believe it can provide an outstanding education.
Cosmetology Book Sets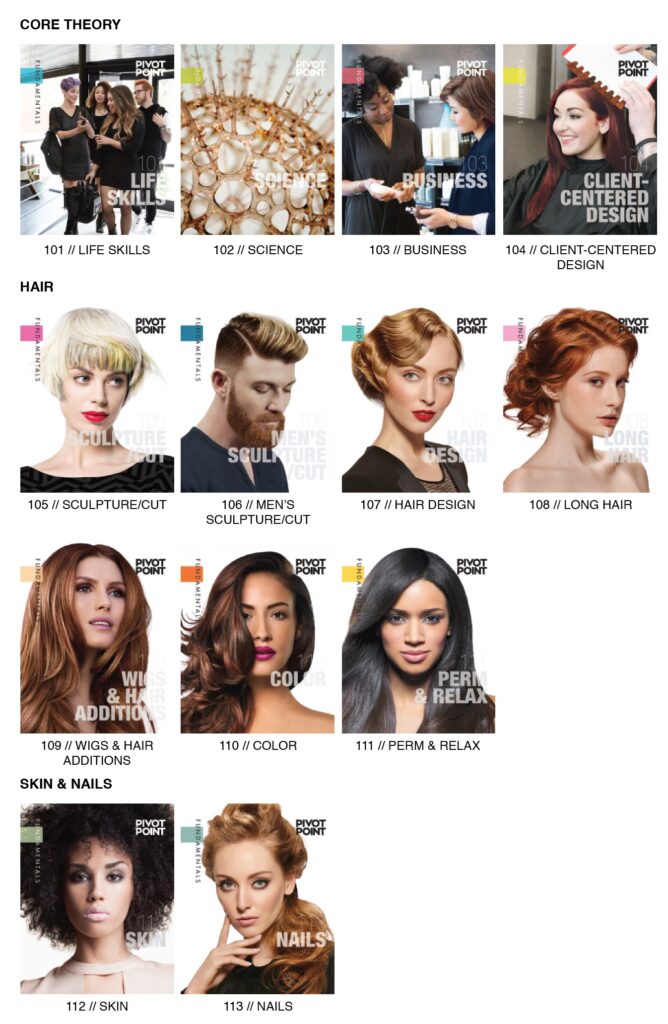 Pivot Point® Fundamentals is a comprehensive education library designed for successful licensure pass rates and entry-level proficiency. It is a product developed to help beauty school students transform information into learning that deepens meaning and relevance. The curriculum includes 13 subject models that teach everything from hair cuts and color to sanitation and business skills. It is built with cosmetology careers in mind!
The Role of Outstanding Educators
The Pivot Point® program wouldn't function on its own without the support of our incredible instructors. Teachers make a difference by taking the curriculum and helping students to apply it to real life. Cosmetology is a hands-on career, and instructors play an important role in translating written education into practical education. Instructors working together with the Pivot Point® curriculum can create a unique and effective education that creates successful beauty professionals!
To Learn More About the Pivot Point® Difference, Click Here
We look forward to meeting you and seeing how we can help you reach your cosmetology career goals. gainful employment disclosures – cosmetology
GRAND ISLAND NEBRASKA – COSMETOLOGY 1800 HOURS
OMAHA NEBRASKA – COSMETOLOGY 1800 HOURS
GRAND ISLAND NEBRASKA – COSMETOLOGY 2100 HOURS
OMAHA NEBRASKA – COSMETOLOGY 2100 HOURS
gainful employment disclosures – cosmetology instructors
GRAND ISLAND NEBRASKA – COSMETOLOGY INSTRUCTORS
OMAHA NEBRASKA – COSMETOLOGY INSTRUCTORS
Helpful Website Links
The nation's primary source of occupational information
O*Net Resource Center: www.onetcenter.org
Information on Title IV Financial Aid
Dept. of Education: www.fafsa.ed.gov
College search website
College Navigator: www.nces.ed.gov/collegenavigator
Campus Crime Statistics
Other Programs