COSMETOLOGY COURSE
Xenon Academy's Cosmetology Program can empower you to help your clients express themselves while you build the beauty career of your dreams.
Course of Study
If you have a passion for beauty and making others feel amazing, then cosmetology could be a great way to express your creativity! In our 1800-hour cosmetology course, you can gain an in-depth understanding of the cosmetology industry through our program's five distinct phases. At Xenon Academy, you can experience the professional salon industry first-hand through interactions with industry speakers, salon experts and career fairs.
With so many different career options available in the cosmetology world, it all depends on you and what aspect of beauty you're most passionate about. If learning cosmetology has been your dream, we don't want anything holding you back! Our cosmetology course offers scheduling options to help you fit in your passion when it works best for you. Our program also allows students to earn hours in an externship program that gives you first hand experience in a salon or spa while still in training.
The cosmetology training at Xenon Academy begins with the fundamentals and works upward to help you gain skills that can be necessary for a future career in beauty! Our students begin by learning in a classroom setting to prepare them to practice what they've learned on guests in our student salon and spa under the supervision of licensed professionals. Here are a few of the things students can generally expect to learn during their time in our cosmetology course:
Hair Sculpture
Creative Color Placement
Texture Services
Hair Design
Skin Care Techniques
Makeup & Lashes
Menswork
Guest Service Training
Salon and Social Media Marketing
Income Strategies
Each of these topics together, in addition with many more, are designed to help our graduates become well-rounded professionals that are ready to go out and build successful careers!
Financial Aid
At Xenon Academy, we understand that enrolling in beauty school can be an investment in yourself. That's why we offer a variety of financial aid options to students who qualify. From both unsubsidized and subsidized loans to Pell grants, we want to provide a way for our students to study what they love with us. If you want to learn more about our financial aid options, then contact us to find out how you can get started with the financial aid process.
The Business Side of Beauty
Our cosmetology course can provide the ideal balance of education and experience, giving you the opportunity to refine your skills. Not only can you gain experience with managing clients in our student salon, but you can also receive instruction on the business side of being a beauty professional. For some cosmetologists it makes managing happy clients easier, and for others it can give them the foundation they need to open a salon, or spa of their own! Our program includes weekly business classes that are designed to prepare you to build your business and even increase your income potential.
Pivot Point® Curriculum Tools
Xenon Academy is proud to be a Pivot Point® Legacy Partner School, which means that we utilize the curriculum and course materials by Pivot Point® International. For more than five decades, Pivot Point has been a leader in beauty education and been responsible for training premier beauty professionals around the world. From hair designers and competition stylists to those who go on to teach future professionals, our educational methods are trusted to provide a solid foundation for success.
Cosmetology Book Sets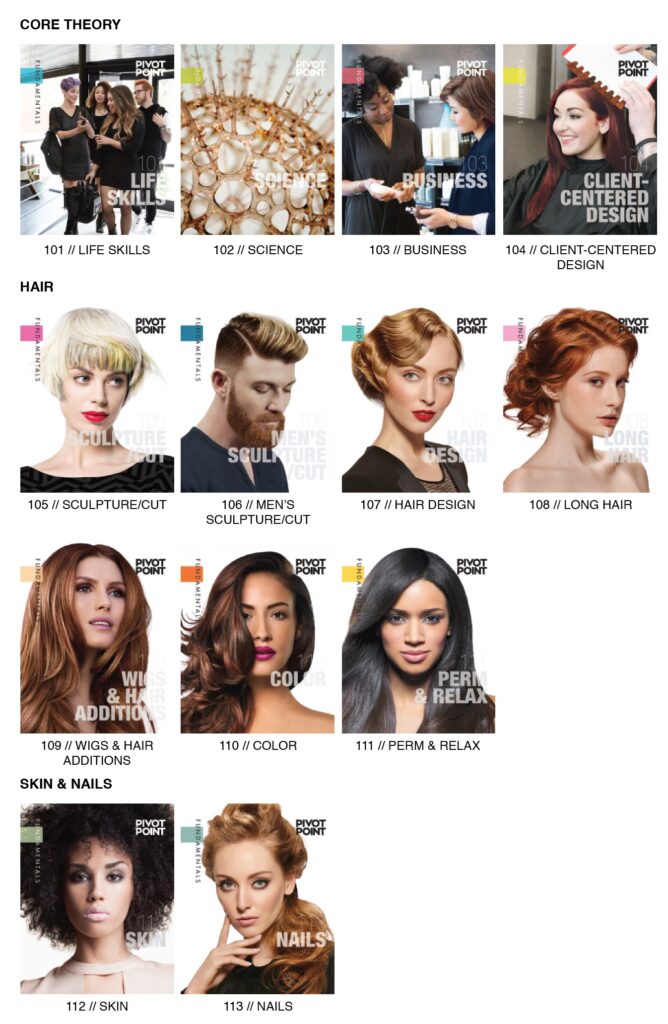 Pivot Point® Fundamentals is a comprehensive education library designed for successful licensure pass rates and entry-level proficiency. It is a product developed to help beauty school students transform information into learning that provides meaning and relevance. The curriculum includes 13 subject models that teach everything from hair cuts and color to anatomy and business skills. It is built with cosmetology careers in mind!
The Role of Outstanding Educators
The Pivot Point® program wouldn't function on its own without the support of our incredible educators. Teachers make a difference by taking the curriculum and helping students apply it to real life. Cosmetology is a hands-on career, and educators play an important role in translating written education into practical education. Working together with the Pivot Point® curriculum can create a unique and effective education that creates successful beauty professionals!
To Learn More About the Pivot Point® Difference, Click Here
Want to Begin Your Cosmetology Education?
With so many options available in the cosmetology industry, now is a great time to pursue your passions of being creative and making someone feel great! If you're ready for an education in cosmetology, then contact us to get more information. Our team would be happy to answer your questions and help you start the application process. We can't wait to hear from you!

Helpful Website Links
The nation's primary source of occupational information
O*Net Resource Center: www.onetcenter.org
Information on Title IV Financial Aid
Dept. of Education: www.fafsa.ed.gov
College search website
Information on the institutions retention rate of first time, full time undergraduate students, as well as the percentage of those enrolled, full-time students who are
male/female, Pell eligible and are self-identified as a member of a racial or ethnic group can be found at College Navigator.
College Navigator: www.nces.ed.gov/collegenavigator
Annual Security Report
Other Programs
Cosmetology Student Instructor Program
Campus Handbooks
Title IX Training
We are required to make publicly available the training we provide for our Title IX Coordinators, investigators, adjudicators and any person who facilitates an informal resolution process in regards to Title IX Sexual Harassment.
The following links are the training videos we use to conduct the required training.