COSMETOLOGY COURSES
There are very few careers in which people are granted the privilege of helping others express themselves. Even fewer of these careers are given such opportunities with each and every client. Whether it's a simple trim, an update to a traditional look or the desire to create something completely new, Xenon's Cosmetology Program can empower you to exceed your clients' wildest expectations.
Course of Study
Xenon's Cosmetology courses can provide the perfect balance of education and experience, giving you plenty of chances to put your skills to the test. Not only can you gain experience with the cosmetology process, but you can also receive instruction on the business of beauty – giving you everything you want for a successful career.
Beginning with a four-phase Discovery, Experience, Create and Imagine program, you can learn the important fundamentals to the art of hairdressing. At Xenon, you can receive important opportunities to experience the professional salon industry first-hand through interactions with industry speakers, trade shows and career fairs, and salon tours; all of which can provide you with exposure to some of the best professionals in the business.
CORE TRAINING
Hair Sculpture
Creative Color Placement
Texture Services
Hair Design
Skin Care Techniques
Menswork
Guest Service Training
Salon Marketing
Income Strategies
Pivot Point® Curriculum Tools
Cosmo Book Sets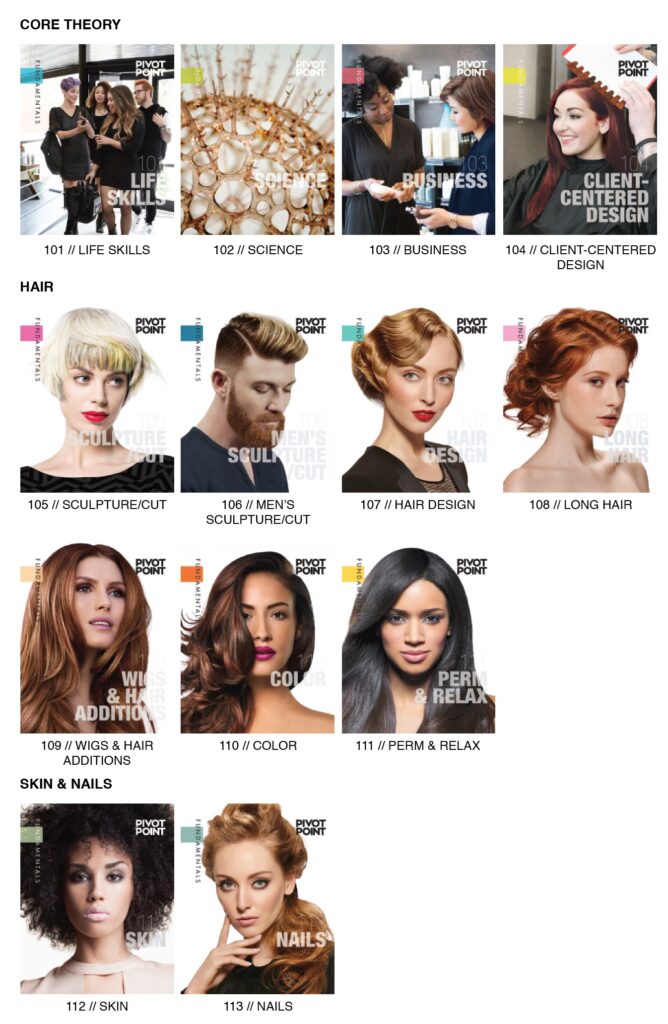 Pivot Point® Fundamentals is a comprehensive education library designed for successful licensure pass rates and entry-level proficiency. It is a product developed to help learners transform information into learning that deepens meaning and relevance. The program includes:
An educational on-line library including 13 subject modules; Life Skills, Science, Business, Client-Centered Design, Sculpture/Cut, Men's Sculpture/Cut, Hair Design, Long Hair, Wigs & Hair Additions, Color, Perm & Relax, Skin & Nails. Receive in your kit the Study Guide and State Board Exam Prep. Originally released June 2016, the 13 subject module book pack can be purchased for $60.00
The Learning System That Thinks Like a Student
Fundamentals is structured in small, modularized lessons. This modular approach offers more flexibility, as it relates to curriculum planning and placing the necessary lessons within a program's learning path. When incorporating Fundamentals into LAB, the student experience comes to life. Each of these small modules can be placed within the student's learning path and assigned to a class. Within the modules are multiple activities that will allow for collaboration, inspire deeper thinking, provide support for multiple learning styles, reinforce need-to-know information & earn points for completed modules.
Teachers make a difference by using our built-in learning system that is constantly engaging students through thought-provoking tools that make learning easier, providing help for exams, and introducing case studies that show how all of this works in the real world.
To Learn More About the Pivot Point® Difference, Click Here
gainful employment disclosures – cosmetology
GRAND ISLAND NEBRASKA – COSMETOLOGY 1800 HOURS
OMAHA NEBRASKA – COSMETOLOGY 1800 HOURS
GRAND ISLAND NEBRASKA – COSMETOLOGY 2100 HOURS
OMAHA NEBRASKA – COSMETOLOGY 2100 HOURS
gainful employment disclosures – cosmetology instructors
GRAND ISLAND NEBRASKA – COSMETOLOGY INSTRUCTORS
OMAHA NEBRASKA – COSMETOLOGY INSTRUCTORS
Helpful Website Links
The nation's primary source of occupational information
O*Net Resource Center: www.onetcenter.org
Information on Title IV Financial Aid
Dept. of Education: www.fafsa.ed.gov
College search website
College Navigator: www.nces.ed.gov/collegenavigator
Campus Crime Statistics
Other Programs