December 14, 2018
What's In Our Student Cosmetology Kit?
Have you decided to take the plunge and begin your beauty school education? We are so excited that you have made that critical decision! As you prepare for your new journey you likely have heard about the awesome things in store for you. Besides the exciting education you're about to receive, one of the most exciting parts about beginning your new beauty school education is receiving your student kit. It can make you feel like a true professional, and really sets the tone for the program you're about to start. Xenon Academy takes a lot of pride in the quality of the tools and products in our cosmetology kit, so let's answer the big question: what's in it?
Xenon Academy's Cosmetology Kit is RAD
The reason all our students receive a beauty kit is to help them practice the skills they're learning in their courses. They also use their new tools on real clients in the student salon*. Typical kits contain basic beauty tools like shears, clippers, clips, brushes, styling tools, and more! However, each school's kit is different, and the quality of the tools in them can really make the difference for a student.
Our students are also lucky enough to have many of our courses and topics online. We offer Pivot Point® curriculum and online courses. This means that our students can continue their education at home, and we do require that every student have a tablet so they can access the courses. You can purchase your tablet along with your student kit, or you can provide your own.
Xenon Academy is proud to supply our students with products that support the beauty school industry. All of the brands in our student kits have partnered with beauty schools to train them how to use their products. We never purchase our products off the shelves, and we strive to provide our students with the knowledge of how best to use their new tools.
Our Product Partnerships
Before you begin your schooling you can look up the following brands to learn a little more about their products and tools. They are each salon-quality brands and you may find that you become loyal to one or more of these brands even following graduation.
Do you recognize these brand names from salons you've been to? That's because the best salons know they that to provide clients with superior services they should use superior tools.
Category #1 – Brushes & Combs
Who knew there were so many different kinds of brushes and combs? You should know that each of these has a different use, and during your time with us you may find that you use each of them on a regular basis!
12 – 7" Styling Combs
1 – Vent Brush
3 – 7 Row Nylon Bristle Brushes
2 – Hair Picks
2 – Stainless steel Tail Comb
1 – 8" Clipper Comb
1 – 7" Dual Purpose Comb
1 – Paddle Brush
1 – Thermal Round Brush
1 – Oval Paddle Brush
1 – Styling Brush
4 – Carbon Cutting Combs
1 – Taper Comb
1 – Basin Comb 8 ½"
1 – Rattail Comb
During your time in our cosmetology program you can find that you use each of these combs and brushes more often than you think! Keep an eye on them so you don't need to replace them.
Category #2 – Texture Rods & Clips
If you're not sure what these are, you might want to do a quick search and see how various clips and texture rods can be used. We always have a fun time when using these tools to create specific textures and hairstyles!
1 – Smooth Magnetic Roller Set
2 – Pack 2" Butterfly Clips
1 – Pack Duckbill Clips
1 – Pack Single Prong Clips
1 – Pack Double Prong Clips
1 – Gator Clips 6pk
27 – Dozen Permanent Wave Rods
It can be difficult to keep track of your clips. While Xenon Academy will provide you with a metal-locking roll about to keep all of your tools in, you may want to use extra bags or containers to organize everything.
Category #3 – Essential Tools
This is everyone's favorite category! When you see yourself working in a salon you likely have envisioned yourself masterfully curling and styling a client's hair, and there's no better way to do that than with these high-quality essential tools.
1 – Shear 6"
1 – Thinning Shear
1 – Styling Razor
1 – styling Razor Blade 10pk
1 – Blow Dryer
1 – Finger Diffuser
1 – Flat Iron 1"
1 – Professional ¾" Marcel Iron
1 – Manikin Shear
1 – Hand Mirror
1 – Service Timer
3 – Color Bowls
1 – Spray Bottle
1 – Tint Bottle
1 – Box Vinyl Gloves
1 – Professional Manicure Kit
1 – Nail Brush
1 – Protective Eye Goggles
1 – Children's Cutting Cape
2 – Adult Capes
1 – Stylist Apron
1 – Oster T-Finisher Trimmer
1 – Oster classic 76 Clipper
1 – Crochet Hook
1 – Manikin Stand
5 – Color Brushes
1 – Name Tag
1 – Shoulder bag
1 – Shear Case
1 – Comb Rollup Case
Can you believe how awesome this is? We've really tried to set you up with everything a professional cosmetologist uses in a typical work week. We can't wait to watch you use these in the student salon*!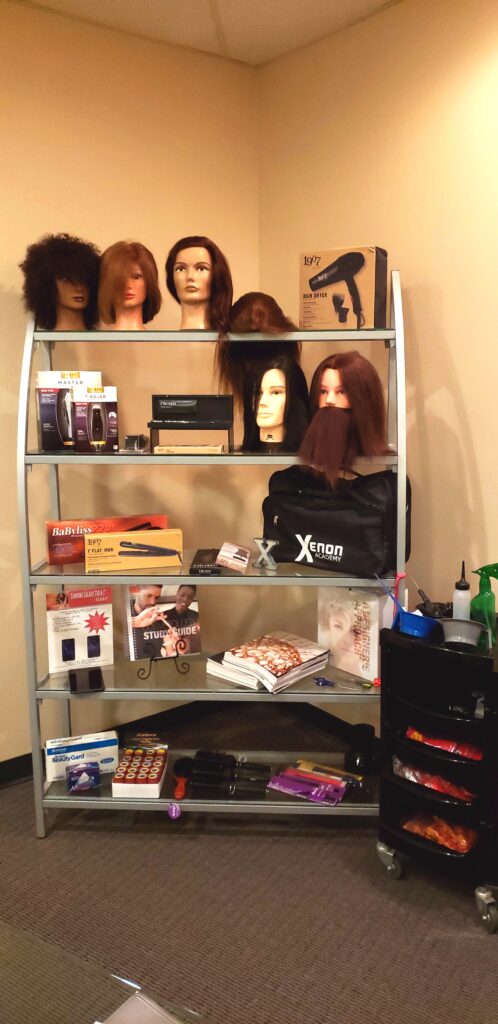 Category #4 – Manikins
Our final category is the manikins. These are an essential part of your cosmetology training, because not only do they provide you with a head to practice on, but you can easily carry them around to show people your work. You may find that you appreciate your manikins more than you think!
2 – Male Manikins
1 – Female Manikin
1 – Quadrant Hair Color Manikin
You may be wondering why we provide one more male manikin than female. The reason is that at Xenon Academy we believe men deserve just as high quality of hair services as women do. Not many schools take the time to go into depth about men's hair services, and we want to counter that by taking the extra time to train on this skill. During our cosmetology program we cover straight-razor hair trims, beard trims using clippers, and men's styling!
How Will You Use Your Student Kit?
During your time at Xenon Academy you will find that you use your tools almost daily! It's important that you keep your tools safe, clean, and well cared for. Our students have found that they love to use their shears, hot tools, and clippers the most, so be aware that you'll use them a lot.
Each of our tools are introduced in our Pivot Point® program within the first four weeks. Our students are expected to be able to handle them with ease by the end of their program, and we do our best to help them reach this goal. Because each of the products we've listed here are so durable and high-quality many of our graduates still use them once they begin working in a salon. That's just one of the ways that we show our students we care about them.
Are you excited to begin your cosmetology education? We look forward to seeing you in class using these awesome tools! Not yet a student? That's fine! We have several start dates throughout the year that you could make it in time for. All you have to do is reach out to us and set up a tour of our school. We would love to see your name on the list of new students, and you could begin using these tools soon enough!