May 25, 2021
5 Creative Careers You Can Have with a Barber's License
Being a barber can certainly be a long-lasting, satisfying career and earning your barbering license is quite an accomplishment. Most people follow the traditional route of working in a barbershop after they complete barber school.
However, there are plenty of other career opportunities to pursue after you earn your barber's license. Barbering involves much more than just cutting men's hair – which means that there are all kinds of jobs you could have once you graduate from barber school.
Let's explore just a few of the creative career options you could pursue with a barber's license.
1. Self-Employed Barber
Rather than working for an established salon or barbershop, you can start on your own as a self-employed barber. This is a very popular career choice for the state of Nebraska. According to the latest research from the Department of Labor, nearly half of all barbers in Nebraska are self-employed.


Being your own boss after barber school is a great choice if you are looking for a more flexible working schedule. You can run a barbershop of your own, rent a booth at a salon, or even operate out of your home. This allows you to set your working hours and grow at your own pace.
Having some business know-how and marketing skills is crucial for being a self-employed barber. So, if this is your goal, it is important to enroll in a barber school that teaches these abilities in their program.
Here at Xenon Academy, we know that having business and marketing experience is essential for a successful career as a barber. This is why we include career prep training, business management, and salesmanship courses in our barber school program.
2. Barber School Educator
If you enjoy teaching and training others, another career option is to become a barber school instructor once you complete the training yourself. After you earn your state barber license, you can go back to school for teacher training and become an instructor.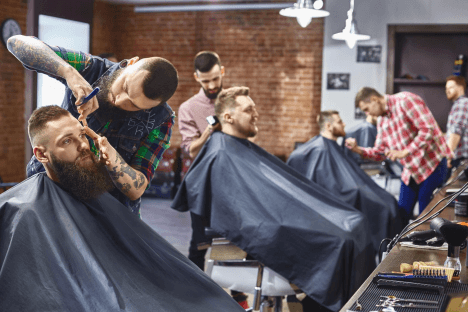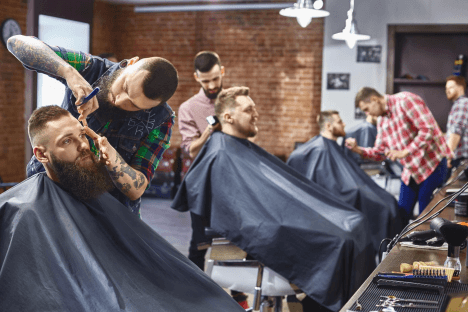 During student instructor training, you will perfect all of the barbering skills and learn how to successfully train future barbers. The goal as an instructor is to prepare students to pass their license exam, while also helping them gain experience for their future careers.
If you have always loved learning and being in a classroom environment, becoming an educator could be a great choice. This will allow you to mentor others and pass on your skills and know-how to other future barbers.
3. Barbering Product Developers
As a barber, you will use lots of hair styling tools and products. During barber school, you will be required to complete courses on basic chemistry to learn how these products work for hair styling treatments, such as coloring, perming, and chemical relaxing.
But you may have some ideas of your own on ways to make these products even better. Using your skill and experience, along with product development training in barber school, you can try your hand at creating your own line of products or collaborating with already established brands.
This is great for people with an entrepreneurial spirit and a dream to start their own business. The world is your oyster – but having a barber's license along with experience and skills in the industry can help you launch your own brand of hair products.
4. Personal Care Services
During barber school, you learn much more than just how to give a men's haircut. You will learn all about different hair design techniques and treatments, including:
Hair coloring
Shaving and facial hair design
Facial massage
Permanent waving and chemical relaxing
Scalp and hair care
After finishing barber school and earning your license, you can pursue a career as a personal care service provider. You may offer various treatments through a salon, on your own, or as an addition to your barbering services. This opens the opportunity for you to connect with other service providers in the area, too.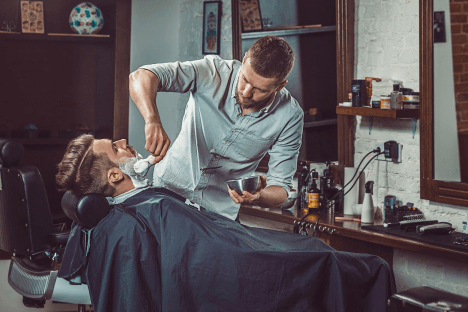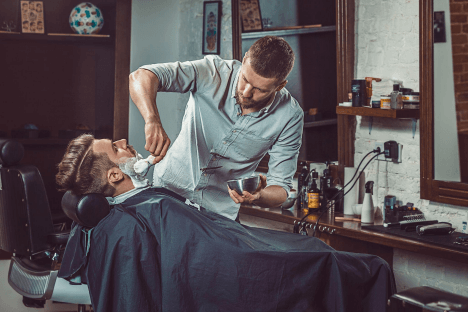 Barbers can also receive additional training and certifications to specialize in specific personal care services, such as skin care, facials, massage therapy, waxing, and more. This is a great way to expand your skillset to set yourself apart and open the door for new earning opportunities.
5. Freelancers and Event Hires
Being a barber does not necessarily have to be your full-time career. It can be a side-gig that allows you to earn an extra source of income. One way to manage this is to work as a freelancer that is hired for short-term jobs.
Barbers are highly in demand for specific events and locations. For instance, barbers may be hired for theatre productions, TV and film shooting, or events like weddings. You can operate as a freelancer who is booked for these types of gigs. You can do this on your own by networking, cold-calling, advertising, or working with an agency to get you connected to these opportunities.
Conclusion:
Completing barber school and receiving your license does not mean that your only job option is to work at a traditional hair salon. There are tons of things that you can do once you get your barber license – but it is important to enroll in a barber school that sets you up for success.
If you are looking for a barber school in Omaha or Grand Island, Nebraska to prepare you for any of these careers, look no further than Xenon Academy. We have helped many students learn the skills they need to become successful barbers, cosmetologists, and estheticians. Let us help you gain the experience and know-how to pursue any career you want.
Contact us today to learn about the enrollment process and to tour our Grand Island and Omaha barber school campus.