October 23, 2020
What is Barbering?
Barbering is the craft of cutting, styling, and coloring short hair, as well as shaving or grooming facial hair. Historically, barbering also included some surgery and dentistry. Typically, the barbering industry caters towards men's haircuts and beard or mustache maintenance, but women can be part of the industry as well, whether it's as a professional or a client. Here at Xenon Academy, we know barbering can be a truly satisfying and fun career option, and we love helping students on their journey into barbering!
If you are interested in a career in barbering, keep reading to find out more about this unique and historic industry, or check out our video below!
History of Barbering
Barbering has been around since as early as 5000 BC, when Egyptians made grooming tools with oyster shell or sharpened flint. Can you imagine shaving with essentially a sharpened seashell? We guess it just goes to show people have been concerned with looking good for quite some time! Later, barbering became important in Mayan or Aztec cultures to distinguish societal or wartime roles. Shave art was used in these cultures to show rank and status.
In the Middle Ages, barbers actually practiced more than just haircutting—they were regarded as surgeons and dentists as well. It's a little bit of a Halloween nightmare to think about, but back then barbers, or barber-surgeons as they were known, often used the medicine of their time to treat injury through bloodletting, fire cupping, amputation, or teeth pulling (to name just a few).
In fact, that classic barbering pole we all know and love is a symbol of this history. The pole was often used by barber-surgeons during medical services as something for the patient to hold onto to encourage good blood flow. The red and white stripes symbolize blood and bandages, or bone, and were a symbol of medicinal healing in the same way we see the red cross today. In America, a blue stripe is frequently added to be patriotic. Eventually, distinctions were made between surgeons and barbers as we know them today, and thank goodness for that!
Education Requirements
To work professionally in the barbering industry, licensure is required. Receiving education from an accredited barbering school is one requirement for licensure, where students typically learn technical cutting and shaving skills, as well as sanitation best practices. Other requirements for licensure include completing your state's required amount of education time, usually between 1500 and 2100 hours, graduating from an accredited program, and passing a state exam.
The Nebraska Board of Barber Examiners requires students to complete 1800 hours of training, be at least 17 years of age, and have a high school diploma or GED equivalent, as well as the above requirements. Our barbering program at Xenon Academy meets this minimum 1800 hour requirement for the full program, or, for those already licensed as a cosmetologist, our shortened program can satisfy board requirements with 800 hours.
What Will I Learn?
Most basic barbering programs teach haircutting techniques such as clipper cutting, layering or graduation to create certain shapes and silhouettes within haircuts. Some coloring or chemical skills are typically taught as well, along with a small amount of basic anatomy and bacteriology to help students maintain safe sanitary practices.
Aside from cutting skills, barbering programs also teach the basics of facial hair grooming and shaving. This is one of the main ways in which barbering differs from traditional cosmetology. In many states, simply having a cosmetology license isn't enough to practice using straight razors to shave in a professional setting, and a barbering license is required. At Xenon, we have a basic and advanced curriculum for learning barbering techniques:
Basic Barbering at Xenon
Hair sculpture
Shaving
Texture Services
Hair Design
Facial Massage
Color Placement
Guest Service Training
Advanced Barbering at Xenon
Shaving and Beard Design
Tapered Cuts and Fades
Chemical Services
The Art of Hair Design
Nail Care
Employment Strategies
Marketing to Increase Income
At Xenon Academy, we feel it is important for students to learn some marketing and business skills in addition to basic barbering techniques. Barbering is oftentimes an entrepreneurial endeavor, with over 40% of barbers opting for self-employment. For this reason, some basic marketing and business skills can make a huge difference in having a successful barbering career. We also offer opportunities to learn from industry professionals and guest artists to help our students get the best possible learning experience.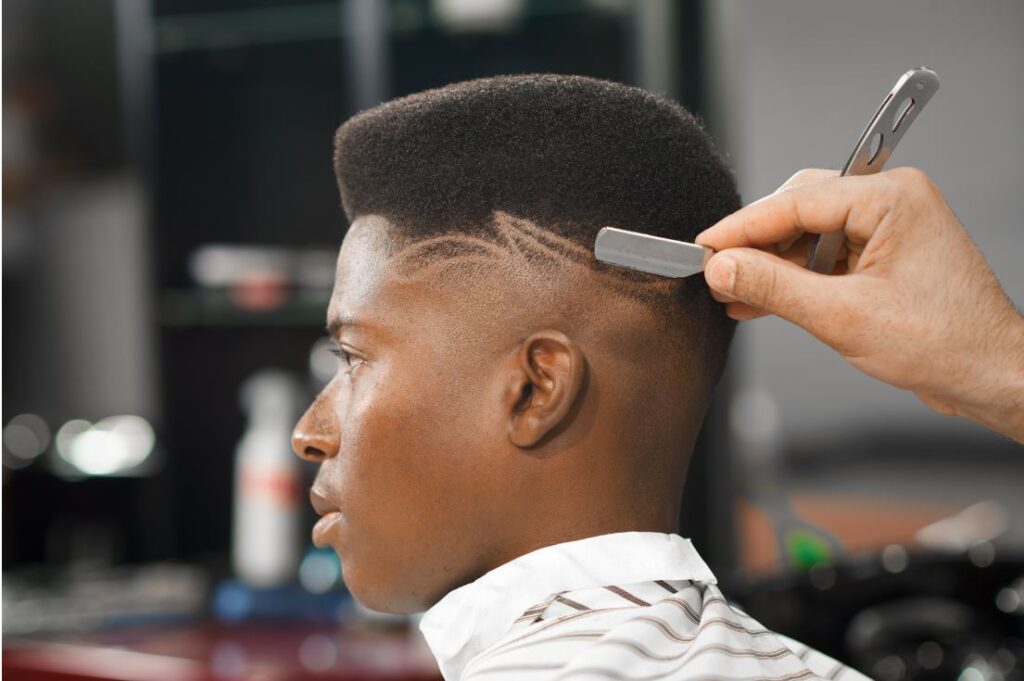 Is Barbering Right for Me?
If having a fun career where you can be your own boss sounds good to you, barbering may be right for you. Some of the benefits of becoming a barber include expressing your creativity everyday at work, helping others feel good about themselves, and the possibility of a flexible schedule. As far as careers go, the options are pretty endless. Because there are so many career paths in the barbering industry, it is definitely possible to find or make a career that is tailored to the specific talents and passions of each individual. Here are some of the most popular careers in barbering:
High-end barbershop stylist
Self-employed barber
Brand ambassador
Educator
Influencer
Traveling barber
Barbering training can also help you find a career without the need to attend traditional college. Not only can this help you work in a more creative, hands-on environment, but it can also possibly save you some time and money. According to Education Data, the average cost to receive a 4-year degree is $122,000. In comparison, the average cost to receive a barbering education is between $10,000 and $20,000.
In addition to the average cost being tens of thousands of dollars less, many barbering programs can also be completed in as little as a year. That means opting to go to barber school and pursue a barbering career could help save you thousands of dollars in student debt*, as well as help you get into the job market more quickly. If the idea of skipping traditional college sounds great to you, barbering could provide an alternate path to your dream career.
Take the Next Step
Are you ready to take the next step and begin your journey towards a career in barbering? Get started today by going online to learn more about Xenon Academy's barbering program. Ready to enroll? Contact us at (402) 718-9853 for our Omaha location or (308) 210-4078 for our Grand Island location to receive more information on program costs, career opportunities, and financial aid*.
*financial aid is available to those who qualify