January 14, 2019
What's in Our Esthetics Kit?
Have you decided to enroll in our esthetics program at Xenon Academy, or are you still trying to choose? Regardless of where you are in your beauty career journey, receiving our esthetics kit is one of the things our students look forward to the most about enrolling at Xenon Academy.
The student kit for our esthetics program is built with one big objective in mind: we want our students to be as prepared and professional as possible to help them be more successful after school. The kit contains many of the basic and advanced tools and items that a professional esthetician would need in their day-to-day line of work.
Digitally Integrated Education
Because Xenon Academy is a Pivot Point Legacy Partner, our education is supplemented with the Pivot Point ® curriculum. This includes online educational materials through the Pivot Point Learn About Business program, and enables our students to take their education with them anywhere they go. For this reason we require our students to have a tablet dedicated to their coursework. The tablet can be included as part of the esthetics kit, or if a student has their own dedicated tablet they can opt out of buying a new one.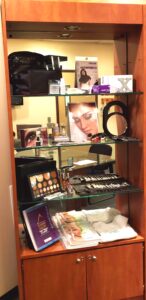 Uniforms & More
It's important for professional estheticians to look the part and be equipped for success, so our student kit includes many of the essentials an esthetician might need. The student esthetics kit includes:
1 – Student Smock
1 – Name Tag
1 – Safety Goggles
1 – Manicure Kit
25 – Cosmetic Spatulas
5 – Piece Tweezer Set
1 – Box Vinyl Gloves
1 – 12pc Makeup Brush Set
1 – Handheld Mirror
1 – Makeup Cape
2 – 8ct Foam Sponges
1 – Brush Cleaner
1 – Xenon Bag
Quite the list, isn't it? We don't want our students to feel unprepared, so this part of the kit is focused on helping them feel equipped to take on each day. This kit full of essentials will be a daily part of life for the student, both while they are in school and when they are working as a licensed esthetician. This is why we make the kit as robust and useful as possible!
Mirabella Essential Artist Kit
Facials, peels, and waxing are often what comes to mind first when talking about esthetics, but makeup is just as important. Makeup is an integral part of the esthetics education at Xenon Academy, so we want our students to be set up for success. This is why we partner with Mirabella to provide all of the necessary essentials to learn and refine makeup skills while in our esthetics program. The Mirabella Essential Artist Kit includes:
1 – Perfecting Concealer
1 – Blush Colour Duo
3 – Pure Press
1 – Lip Definer
2 – Velvet Lip Pencil
1 – Colour Luxe Lip Gloss
2 – Colour Vinyl Lipstick
1 – Brow Pencil
1 – Lash Luxe Mascara
1 – Eye Definer
12 – Eyeshadows
1 – Kabuki Brush, Blush Brush, Contour Brush, Foundation Brush
1 – Dual Pencil Sharpener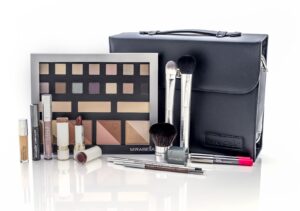 The makeup part of the kit is exciting because it gives students everything they need to learn the basics and explore what kind of makeup looks they may enjoy creating for their clients. Beauty school isn't just about learning, it's also an opportunity for our students to try new and exciting things!
Dinair Pro Airbrush Kit
A huge part of the esthetics world is makeup, and today's makeup artists would be nowhere without their tools for airbrushing! We've partnered with Dinair to provide a spectacular airbrush makeup system that is provided in our esthetics program kit. Our student kit includes all of the essentials for performing professional airbrush makeup, whether it's for editorial work, television and movies, or for bridal makeup. The kit includes:
1 – Airbrush Compressor
4 – Airbrush Foundations
1 – Moist & Dewey Moisturizer
1 – Airbrush Facial Tanner
1 – Makeup Travel Case
1 – Eyeliner
1 – Shimmer
1 – Shadow/Brow
1 – Blush
1 – Corrective Concealer
1 – 3-in-1 Brow Stencil
Airbrushing is an exciting part of the esthetics program because airbrushed makeup is becoming more accessible and widely used than ever. The makeup applies evenly and seamlessly, creating outstanding results that can't be replicated with traditional makeup application. It's a great way for our students to differentiate themselves from other makeup artists and can give them an edge over their competition!
How Will You Use Your Student Kit?
The esthetics program at Xenon Academy can be several months shorter than our cosmetology program, so we want our students to dive in and get started right away once they've enrolled. We spend the first few weeks reviewing the kit and going over fundamental education to prepare our students to start working in the spa environment. The student kit is used from the very first day, which helps our students develop a familiarity and muscle memory for their tools long before they've even finished the program. Our instructors take special care to teach the students how to professionally use and care for each element of the kit to ensure students can use it throughout their careers.
Sign Up For Your Own Kit!
Are you eager to begin your esthetics adventure? We're excited to welcome you to the Xenon Academy family! To learn more about our programs, visit our esthetics or cosmetology program pages. If you're ready to learn more from a member of our admissions team, fill out an enrollment application to begin today!