March 18, 2016
How to Tell if You Should Work in the Beauty Industry
Have you considered cosmetology school, but aren't sure it's the right fit? Xenon Academy is here to help!
Whether you're getting ready to take the next step after graduating high school or you're thinking it's time for a career change, applying for beauty school could be perfect for you! Still on the fence? Read our signs of someone who might love working in the beauty industry and find out if you can see yourself!
1. Are you creative and motivated?
Whether you're cutting, coloring and styling hair or pushing the boundaries with your makeup concepts and designs, there's a place for your creativity to bloom in the beauty industry. So much of the fun of working as a beauty professional comes from having the freedom to express your creativity each and every day. Each client is a new opportunity to make art. So if you find yourself constantly penning new ideas and projects, or love all things beauty and wellness, then the beauty industry could be for you!
2. Do you need freedom/ flexibility?
Do you dread the thought of a typical 9-5 office job? Is having a flexible schedule on the top of your priority list when thinking about which career path you should choose?
If you answered yes to either of those questions, then the beauty industry could be for you!
Working as a beauty professional often means that you could have the option to book your own clients and make your own schedule as a freelancer. It's an amazing feeling when you're not restricted by your job's schedule and can move things around to fit your needs!
3. Do you enjoy helping people?
One of the best parts about being in the beauty industry is helping people feel more confident about themselves. Whether that's through a complete hair transformation or helping them achieve glowing skin, your skills can be a huge benefit for someone's life. And to top it all off, you're making a difference in someone's life while doing something you're already passionate about. It's the best of both worlds! As a beauty professional, there's nothing more amazing than seeing for yourself the impact of what you've done has on a client when you hand them a mirror.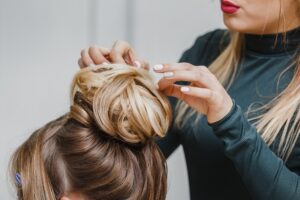 4. Are You Interested in a Career With Multiple Possibilities?
When thinking about what comes next after graduating from beauty school, you may be imagining working in a salon while styling clients' hair. While this is a career path you could take, it's far from the only option! The beauty industry is constantly growing which means there are so many exciting services to learn and ways you can personalize your journey. At Xenon Academy, we offer a variety of beauty programs so you can focus your career on what you're most passionate about. Interested in knowing what career options could be available to you as a beauty school graduate? The list goes on and on, here are just a few:
Makeup artist
Salon owner
Product representative
Beauty advisor
And so much more
Want to Chat Online?
The possibilities as a beauty professional are endless, but you have to start somewhere. Get some more information, and call us to speak to an admissions representative about your future as a beauty professional! Our team would be happy to answer your questions and help you schedule a virtual tour of our campuses!
Still Not Sure Which Direction to Take?


Find Out Which Beauty Career is Calling to You