July 8, 2021
A Cosmetologist's Guide to Creating a Portfolio
Whether you're a new cosmetology student or a licensed cosmetologist, a strong portfolio can help you create a name for yourself and build a loyal reputation. Even though it's never too late to start, your professional portfolio is something you should start to build as you make your way through cosmetology school. It's also something that you should continue to grow and advance right alongside the growth and progress of your career.
At Xenon Academy, we want our students to graduate feeling prepared for a future career. That's why we are sharing our best tips to create a strong cosmetology portfolio so you can graduate feeling a step ahead!
What Is a Cosmetology Portfolio?
A cosmetologist portfolio is a compilation of a cosmetologist's work, experience, skills, and qualifications. It's a place where you can post photos of your work so that prospective clients and other beauty professionals can visually see your talent and skill set.
The list of reasons as to why you should start your professional portfolio is endless:
It's a wonderful tool to have when looking to land a freelance gig or a long-term career with a specific company.
It's an easy go-to item to provide potential employers during interviews, and even potential clients to grow your career and reputation.
It's a great way to track your growth as a stylist!
What Kinds of Portfolios Are There?
There are several types of portfolios depending on your own personal preference:
You can choose one or you can choose all three. However, each one has a unique purpose. Let's dive a little deeper into the basics of each so you can decide which is best for you!
Social Media Portfolios
Social Media Portfolios
If you don't have an online presence, you need to! Even if you have a personal social media account, it's still important to have a professional presence. Instagram, Facebook, TikTok, and other platforms can be marketing powerhouses for beauty professionals these days. They are places where creatives, entrepreneurs, and professionals can market themselves, their products, and/or their services. These platforms are also great ways to watch your growth as a stylist!
Each platform has different demographics, so consider who you want to market yourself to when choosing a platform to focus on!
Need help taking insta-worthy photos? Download our free guide to lighting and photography as a beauty professional by filling out the form below and pushing the "Get Info" button!
Not sure what to post on social media? Try including a variety of posts! Here are just a few ideas
Styling tips
Hair care or color maintenance tips
Your favorite products
Personal posts where clients can get to know you
Motivational Quotes
Want more ideas? Jump ahead to see what else you can include in your portfolios!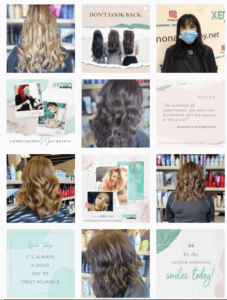 Again, your portfolio is not only for your potential/current clients and potential employers but it's also for you. Make it your own. Express yourself and your passion in a way that feels right and true to you. When you figure that out, you can feel confident in growing your clientele and your business.
Website Portfolios
Potential clients and employers may want to continue looking at your work on a website. This is why a website portfolio can be a great asset to have. A website portfolio is an aesthetically pleasing website that showcases your work. It's a huge way to get your name out there. It can also help you reach a wider audience, get more information out there, and provide an easier way for people to look at your work.
As you grow your skills and move into salon life, your web portfolio can turn into a full-blown website. You can integrate online booking to give clients an easy way to make appointments with tools like Square.
Building a web portfolio may feel intimidating at first, but there are plenty of sites that can help. Here are just a few to get you started!
Book Portfolios
A book portfolio is a physical copy of your work put into a binder to show your potential employer during an interview. You may be wondering if a book portfolio is necessary in the digital age. While many employers will be satisfied with a social or digital portfolio, some may prefer a physical book to flip through during interviews. It's never a bad idea to have one handy!
If you'd like to make a book portfolio, we recommend using a binder with page protectors. This way you can easily slip work photos in and out to keep your book up-to-date!
How To Create the Ultimate Portfolio
Trying to find the right way to start your portfolio can be tricky because it's different for every stylist. Don't be afraid to customize and make it your own. Show some personality and be true to who you are! While you have the freedom to express your creativity while making your portfolio, there are things that you should include. Let's check them out!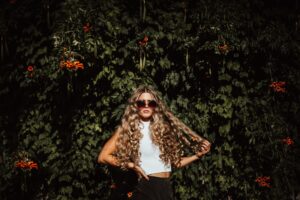 Show Your Cosmetology Work
In this portion of your portfolio, you can show people exactly what you're made of so make sure to give them variety! Also, use some good quality photos. If you can't afford a professional-level camera, use your phone! Smartphone cameras are pretty advanced so just make sure that you have good angles and good lighting. You're going to want to show them examples of:
Updos & bridal/formal hair
Behind-the-scenes
Products you use
Before and afters
Color corrections
Creative colors
Long, medium, and short haircuts
Men's haircuts and styling
Different textures of hair
Want to see some examples of cosmetology portfolios? You can always find inspiration from others on social media. Check out this Xenon student's cosmetology portfolio on Instagram. We love the variety of updos, fashion colors, and natural highlights she included in her feed!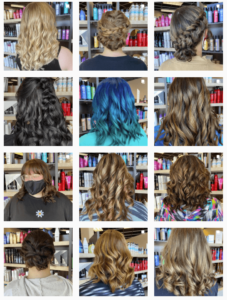 Include Your Resume
Some of the information on your resume will also probably be elsewhere in your portfolio. That is okay. It's still great to have a separate section in your portfolio dedicated to your resume. That way all of your professional information can be found in one place. And, if you are presenting your portfolio to a potential employer, it would be beneficial to include a cover letter or letter of intent along with your resume.
Want help creating your cosmetology resume? Check out our ultimate resume-building guide!
Promote Your Educational Background
Dedicate a section to your education. Showcase any diplomas, licenses, and certifications you have. If there are any educational experiences that you have participated in, you can also advertise that experience here and explain why it makes you a well-rounded and talented stylist. These experiences could look like
Attending trade shows.
Participating in externships at salons.
Signing up to participate in fashion shows.
Anything that has helped you grow as a stylist.
Advertise Your Reviews and Recommendations
According to Qualtrics, 93% of consumers say reviews influence their purchases, and about 91% trust reviews as much as personal recommendations. That is why including reviews in a portfolio is tremendously important. Reviews help both potential clients and employers build trust in your abilities.
Google My Business, Facebook, Instagram, Yelp, and many other sites are all popular hubs for reviews and client experiences. Use this to your benefit! Pull some of your reviews from these sites and list them. If a client posts a selfie raving about how much they love their hair, screenshot it and add it to this section! Like we said before, the majority of your portfolio provides an opportunity to humbly brag about yourself. In this portion, let your clients and employers do the bragging!
Don't have any online reviews yet? Be sure to ask your clients to leave you one! Data shows that over half of customers will leave a review if asked.
Get Started Today
Whether you are still in cosmetology school or you are already in an established career, we recommend building your cosmetology portfolio now! If you've built your portfolio and have any recommendations, we want to hear them. Share with us in the comments or share your tips with us on Instagram or Facebook!
Need more help starting your dream career in beauty? Check out our guide on all things cosmetology!
Does a future in cosmetology sound like your dream career? Check out our cosmetology program to learn about our program and how you can become a student! Trying to land yourself a job in the industry? Check out our guide for interviewing well, and how your portfolio can help!