June 11, 2014
All About Esthetics at Xenon Academy
Do you have a skincare routine that you live by every morning and night? Have you ever thought about pursuing an education that focuses on the foundation of healthy skin? Esthetics could totally be for you!
At Xenon Academy, we strive to stay up with the latest trends and fashions in the beauty industry, which includes cosmetology and esthetics! Because a career as an esthetician is booming, we want to chat a little more about what an esthetician is, what they learn in school, what they can do, and how you can become one yourself at Xenon Academy. Let's get to learning!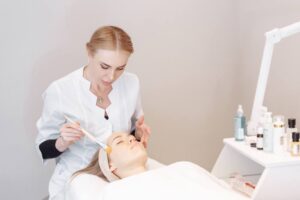 What Is an Esthetician?
Estheticians are licensed professionals who are experts in maintaining and improving healthy skin at a surface level meaning they don't do any invasive procedures. Esthetics is the study of skincare and the beautification of the skin through a variety of services.
What Can an Esthetician Do?
There are a variety of rewarding career paths to continue your journey in esthetics! Here are some common paths estheticians take:
Master esthetician
Clinical esthetician
Wax/hair removal specialist
Facial artist
Makeup artist
Spa manager
Salon owner
Social media influencer/blogger
Educator
Estheticians can be found working at spas, salons, resorts, cruise ships, personal businesses, and even as freelancers. Whatever path you choose to pursue, strive to create an amazing career by putting love and dedication into your passion!
What Can I Learn in Xenon Academy's Esthetics Program?
Xenon Academy cares about the success of its students in and out of school! In our esthetics program we strive to provide students with an education with the tools that will help them be successful in whatever avenue they choose to pursue in the esthetics world.
At Xenon Academy, our esthetics students learn:
Facials
Micro light therapy
Back treatments
Body treatments
Hair removal
Chemical peels
Makeup
Spray tans
And much more!
After licensure, it is common for an esthetician to specialize in offering their favorite treatment!
With Xenon Academy's foundational education, the skills you learn can prepare you to feel ready to step into the skincare world. Since techniques and technology are always changing (for the better), estheticians are always seeking to improve upon their knowledge. There are also a variety of continuing education and additional courses you can take after licensure to improve upon your skills or add a new skill or service to your menu.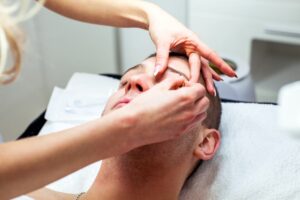 Esthetics Services
Not only do we teach future skincare professionals how to provide these services (now including lash lifts!), but we also offer these services to clients at great prices! Stop into our student spa to book your appointment today. All services provided by students under the supervision of licensed professionals.
Why Should I Become an Esthetician?
Have you always dreamed of having a career in beauty? Esthetics is an amazing option. Here's why:
Get a Little Bit of Everything
If you love both beauty and health, esthetics can give you a little of both worlds. If a client wants to know their skin type and what products they could use, you could help them with a skin analysis. From there, you could make recommendations on skin products best for them. If a client wants a makeup look for a fancy night out, you could offer makeup services to help them feel confident with their fancy look.
Both skin care procedures like facials and skin enhancements like makeup can give you a fun, well-rounded career if you choose to offer both services.
Help Others Feel Beautiful
As an esthetician, your goal is to help clients walk out of your room feeling a little more beautiful and confident than when they walked in! Pursuing a career that allows you to make a positive impact on someone's life, whether it's big or small, can be so rewarding.
Many clients come to estheticians because they have conditions that make them feel self-conscious. Your job could help a client get that boost of self-confidence they need in so many different aspects of their lives like relationships or the workplace.
If you have a love for beauty and health and a passion for helping others, esthetics could be for you! Some estheticians were once nurses, teachers, or other types of caregivers because they wanted to continue to make a difference.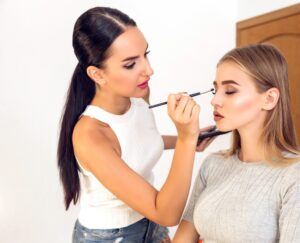 How Can I Become an Esthetician?
If you're interested in pursuing esthetics, you might be wondering what the next steps are. Learn more about the process of getting into esthetics school and what you can do next:
Learn more about the esthetics program at the school you're interested in.
Set up a tour to ask any additional questions such as financial aid or schedule options, get a feel for the people, and check out where you'll be learning.
Take the steps to enroll at Xenon Academy!
Complete the state licensing requirements.
Submit your esthetician application form.
Explore career options and opportunities.
Pursue your passion!
Contact us today for any questions and/or to set up a tour! Start exploring your options and get excited to learn more about pursuing an education in esthetics.
Want to Learn More About Esthetics?
Check out these blogs:
Which Beauty School Path Should You Take?
5 Misconceptions That Crush Beauty School Dreams
The Value Of Experienced Beauty Instructors
What's in Our Esthetics Program?